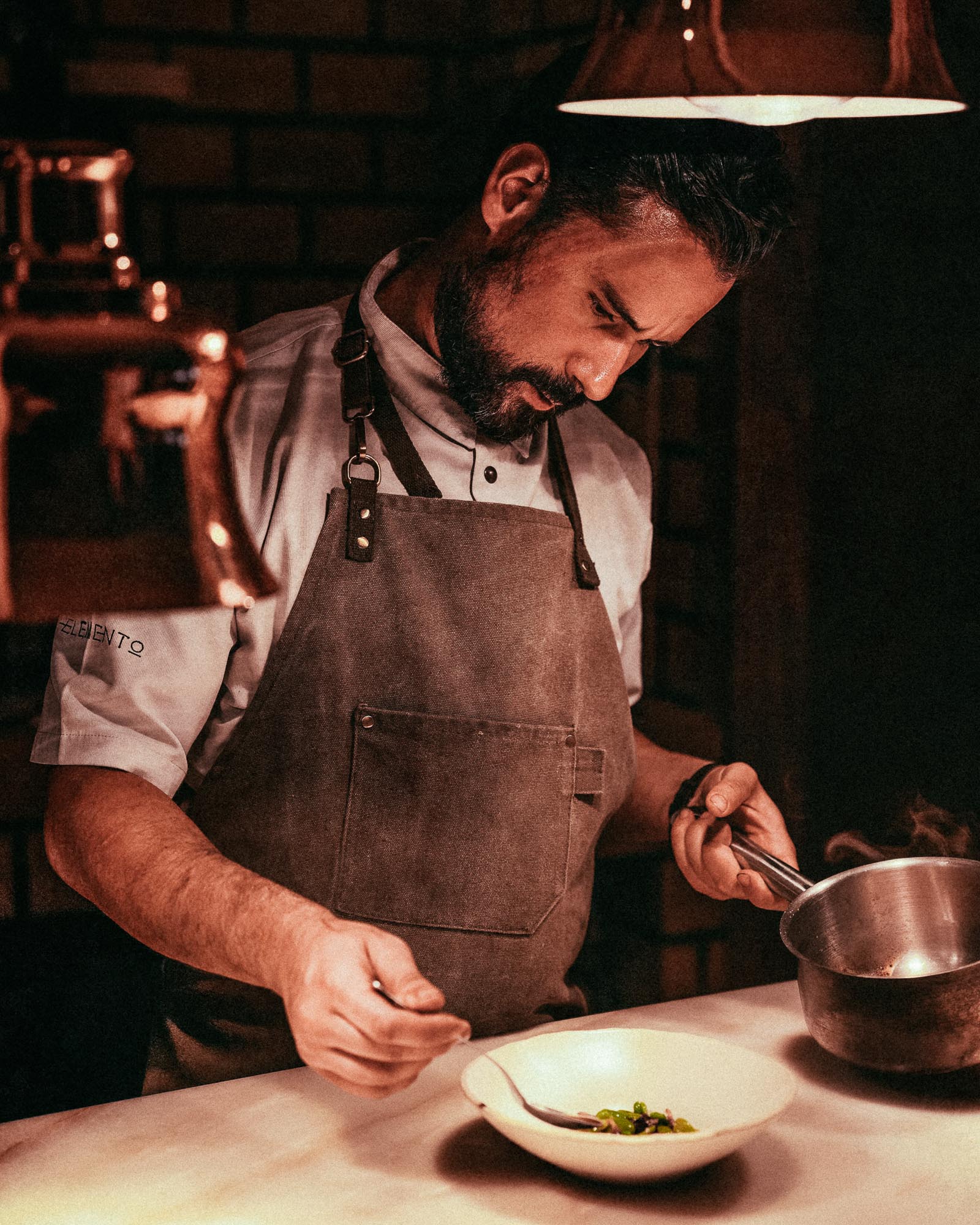 Ricardo Dias Ferreira, chef and owner of this "dream" world of flavours, developed a special taste for cooking over an open fire, its technique, flavour and functioning very early in his career.
His CV includes experience in large luxury hotel chains such as Ritz Carlton, Sheraton, The Yeatman-V.N.G. and Westin. Moreover, in order to gain more professional expertise and open up his culinary "dream world", he cooperated with Martin Berasategui, the most award-winning Michelin-starred chef in Spain, in his restaurant in San Sebastian. 
As new challenges often involve flying to far-off destinations, in 2012 he decides to have a new experience travelling across the world to Australia to broaden his horizons. He teamed up with Quay Restaurant-Sydney, considered one of the best restaurants in the world, managed by chef Peter Gilmore, founder of Master Chef Australia TV program.
At the beginning of 2015, upon passing culinary tests, Ferreira is selected from several candidates to work at the luxurious, high-end chain Shangri-La & Resorts in Sydney, for the position of Master Chef of Altitude Restaurant which usually serves the highest international figures including politics, G20, finance or royalty. A few months later, he earned several Australian and international awards, such as Restaurant of the Year for Tourism in Australia, The Best Restaurant of the chain Shangri-La Hotels & Resorts as well as 3 Toques in the French gastronomic guide Gault & Millau.
In early 2017 at Shangri-La, Sydney, he is given the lead over all of the hotel's 8 restaurants, varying among each other by their particular concepts and cuisine, where Ferreira managed a team of 75 chefs of different nationalities.
As his "dream" has always been to open his own unique and dazzling project one day, he decides to return to Portugal. He then commits to his concept of pure cuisine, dating back to its origins and its past, making use only of firewood while at the same time living up to today's expectations of well-being, thus setting aside gas or electricity. 
Like this – from the city of Porto to Portugal and the world – he is now showing that he made his "dream" come true.
And here Elemento is born…